Schneeschuhwanderung auf den Grifitzbühel
Level of difficulty:
Medium
3.7 km

Distance

2.8 h

Duration

1221 vm

Lowest elevation

1843 vm

Highest elevation

621 vm

0 vm
Schneeschuhwanderung auf den Grifitzbühel
Der Grifitzbühel liegt nordseitig oberhalb des Weilers Kornat und gehört vermutlich zu den schönsten Schneeschuhwanderungen im Lesachtal. Bedingt durch die südseitige Exposition der Tour lässt sich diese den ganzen Winter hindurch gut machen. Im oberen Teil geht es durch lichte Lärchenwälder und über weite Hochflächen. Hier hat man fast den Eindruck, dass dieser Berg speziell für Schneeschuhwanderer gemacht wurde. Die letzten Meter zum Gipfel sind noch einmal "kurz und knackig", dafür wird man jedoch mit einer atemberaubenden Aussicht belohnt.
A first glimpse
Some impressions of the tour
Leichte und lohnende Winterwanderung; Aufstieg 2,5 Std.; Von den höchstgelegenen Bauernhöfen von Kornat (Zufahrt von Birnbaum) auf einem Hohlweg nach Norden. Bei der nach wenigen Minuten erreichten Weggabelung nach rechts, bei einer weiteren Teilung weiter oben nach links, bis man über schütter bewaldetes Almgelände mit mehreren Heuhütten und den Vorrücken des Grifitzbühel schließlich den Gipfel erreicht (1861 m; Kreuz). Der Abstieg erfolgt entweder entlang der Aufstiegsroute, wobei man auch südlich des Vorkammes schräg über die Hamwiesen zum Oberzählplatz (1409 m) absteigen kann oder nach Süden über die Kornater Wiesen nach Mattling (Bushaltestelle).
Location and how to find us
The Lesachtal holiday region lies in the Austrian province of Carinthia, directly next to the Italian border.
Plan your journey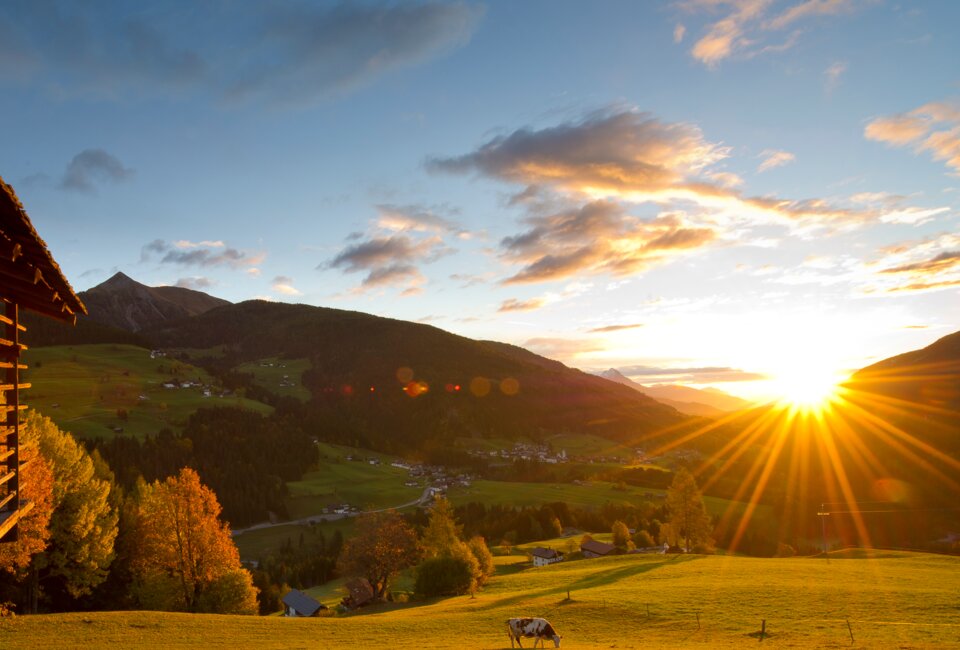 What do you want to discover?