Skitour Maria Luggau - Samalm
Level of difficulty:
Medium
6.6 km

Distance

2.8 h

Duration

1150 vm

Lowest elevation

1991 vm

Highest elevation

850 vm

48 vm
Skitour Maria Luggau - Samalm
Technisch leichte Skitour die direkt von der Ortschaft Maria Luggau in Angriff genommen werden kann. Der Aufstieg erfolgt größtenteils südseitig und bietet über weite Teile einen schönen Ausblick auf die Karnischen Alpen. Der erste Teil des Aufstieges im Wald erfolgt über einen Forstweg, mit zunehmender Höhe lichtet sich der Wald und es geht über lichte Lärchwiesen, die im Sommer immer noch gemäht werden auf das Hochplateau der Samalm. Die Abfahrt erfolgt entlang der Aufstiegsspur. Alternativ kann man auch Richtung Tuffbad abfahren (siehe Tour Xaveriberg - Samalm - Tuffbad).
A first glimpse
Some impressions of the tour
Vom Paternwirt geht es über die Bundesstraße ein paar Meter Richtung St. Lorenzen, an der ersten Wegkreuzung biegt man links (Norden) ab. Nun geht es ein paar Meter über einen asphaltierten Seitenweg zu einer kleinen Häusergruppe. Hier beginnt der Forstweg, man folgt dem Verlauf für ein gute Stunde. Auf einer Seehöhe von ca 1.670 m trifft man auf den Almweg, der vom Xaveriberg Richtung Samalm führt. Man folgt dem Weg wenige Meter und biegt dann auf den beschilderten Sommerweg ein. Nun geht es stetig in nordwestlicher Richtung, an einigen Alm- und Heuhütten vorbei bis aufs Gipfelplateau der Samalm. Die Sicht beim Gipfelkreuz reicht an klaren Tagen von den Sextener Dolomiten bis hin zu den Karawanken, eingerahmt wird die Samalm von den wuchtigen Kalkblöcken der Lienzer Dolomiten.
Die Abfahrt erfolgt entlang der Aufstiegsroute, alternativ kann auch ins Tuffbad abgefahren werden (siehe Tour Xaveriberg - Samalm - Tuffbad).
Location and how to find us
The Lesachtal holiday region lies in the Austrian province of Carinthia, directly next to the Italian border.
Plan your journey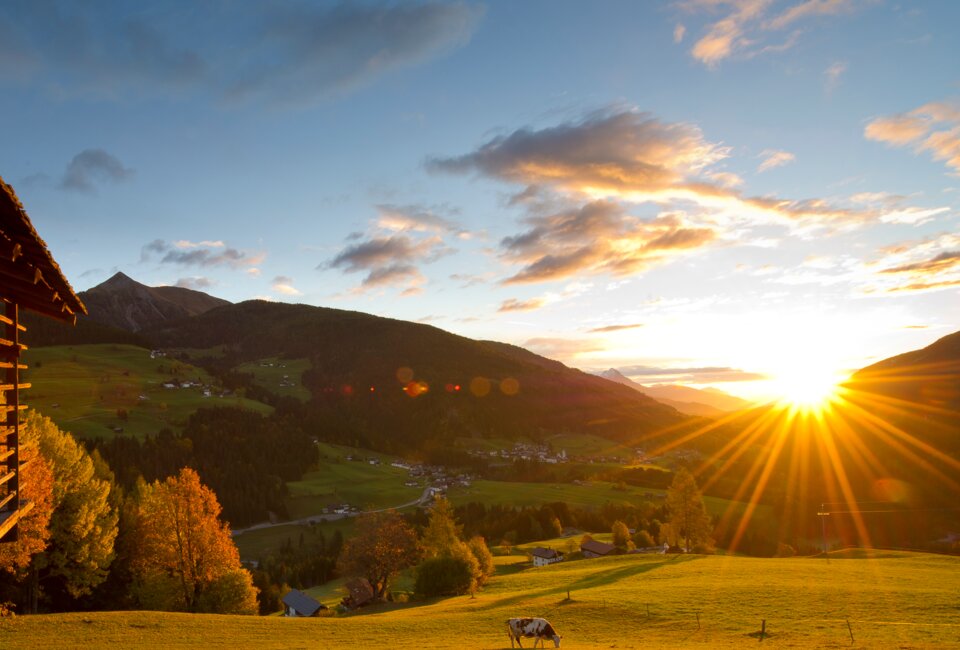 What do you want to discover?