Skitour Frohntal - Hochalpl
Level of difficulty:
Medium
7.1 km

Distance

3.5 h

Duration

1246 vm

Lowest elevation

2385 vm

Highest elevation

1093 vm

17 vm
Skitour Frohntal - Hochalpl
Das Hochalpl bietet landschaftliche Vielfalt, einen abwechslungsreichen Aufstieg, der die eine oder andere kleine technische Herausforderung mit sich bringt und vor allem weite Hänge für perfekte Abfahrten. Der Talkessel des Frohntales bietet dabei mehrere Expositionen über die man abfahren kann, um den besten Schnee zu finden. Beeindruckend ist die Aussicht vom Gipfel, im Tal liegt die Ortschaft St. Lorenzen, im Süden bauen sich die mächtigen Felsblöcke von Monte Peralbe, Monte Avanza und Monte Chiadenis auf und über das Fleonstal sieh man bis zum Wolayerseegebiet.
A first glimpse
Some impressions of the tour
Vom Wendepunkt der Straße zum Weiler Frohn geht es zunächst eine Stunde durchs Frohntal bis zur Ingridalm, wenige Meter hinter den Almhütten erkennt man am südöstlich liegenden Hange bereits das Hochweißsteinhaus. Entlang des Sommerweges geht es zur Hütte und von dort in südwestliche Richtung zum Bladener Joch (Passo dei Sappadini). Bis auf eine steilere Hangquerung kann man hier mit einer günstigen Spuranlage das gesamte Gelände so ausnutzen, dass man mit wenigen Bögen das Joch erreicht. Nun wird es technisch etwas anspruchsvoller, über den Grat, der zu den Felswänden des Hochalpls führt geht es in engen Spitzkehren hinauf. Nachdem der Grat meistens abgeweht ist, bzw. harte Schneeverhältnisse vorzufinden sind, empfliehlt es ich unbedingt die Harscheisen dabei zu haben. Bevor es zu steil wird, biegt man nach links (in südlicher Richtung) in das kleine Kar ein, dass zwischen Haupt- und Vorgipfel des Hochalpls liegt und umrundet den Berg leicht ansteigend bis man schließlich die letzten Höhenmeter aus westlicher Richtung in Angriff nimmt.
Die Abfahrt erfolgt in der Regel entlang der Aufstiegsspur, man kann auch über den Grat vom Bladener Joch Richtung Öfnerjoch fahren, um so eventuell bessere Schneeverhältnisse zu finden. Alternativ ist auch ein Abfahrt über das Hochalpljoch (siehe Tipp des Autors) möglich.
Location and how to find us
The Lesachtal holiday region lies in the Austrian province of Carinthia, directly next to the Italian border.
Plan your journey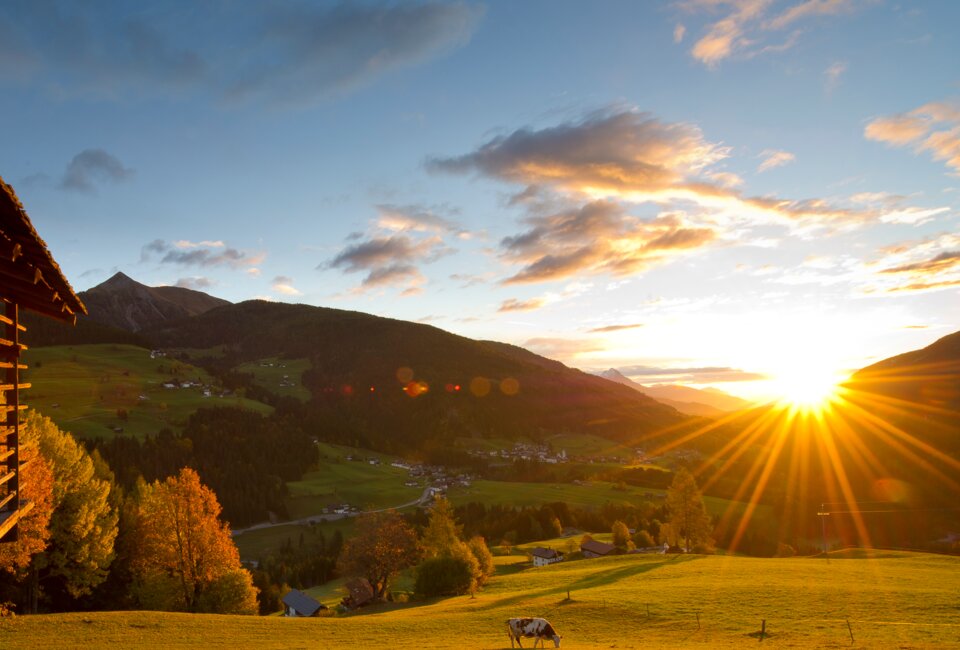 What do you want to discover?