Schneeschuhwanderung auf die Lackenalm
Level of difficulty:
Medium
7.3 km

Distance

3 h

Duration

1113 vm

Lowest elevation

1613 vm

Highest elevation

500 vm

500 vm
Schneeschuhwanderung auf die Lackenalm
Die Schneeschuhwanderung auf die Lackenalm ist eine einfach Wanderung, die ein geringes Maß an Kondition erfordert. Der Weg führt sehr abwechslungsreich durch den Wald und über freie Almwiesen. Auf der Lackenalm wird man mit einer Aussicht auf den gesamten Karnischen Hauptkamm belohnt.
A first glimpse
Some impressions of the tour
Am östlichen Ortsende von St. Lorenzen zweigt der Weg zum Bödnerbauer links ab. An der ersten kleinen Wegkreuzung geht es nach rechs Richtung Bödnerbauer. Kurz nach der Bachquerung kann man den Forstweg verlassen und über den Sommerweg aufsteigen. Ab dem Bödnerbauern geht es nun über den gut markierten Sommerweg zunächst durch den Wald und dann über offene Almwiesen bis Sie die Lackenalm erreichen. Die Tour kann Richtung Norden bis zum Lackenkreuz verlängert werden, durch das freie, offene Gelände kann man hier seine Aufstiegsspur frei wählen.
Der Abstieg führt zunächst kurz nach Westen bis man am Wegkreuz nach Süden abbiegt und den Wegweisern Richtung St. Lorenzen folgt. Sowie man die Almwiesen verläßt kann man entweder über den präparierten Winterwanderweg oder den ausgeschilderten Sommerwanderweg nach St. Lorenzen absteigen. Oberhalb der Ortschaft angelangt, kann man entweder über den Fahrweg zur Ortschaft gehen oder bei guter Schneelage direkt über die Felder ins Ortszentrum absteigen.
Location and how to find us
The Lesachtal holiday region lies in the Austrian province of Carinthia, directly next to the Italian border.
Plan your journey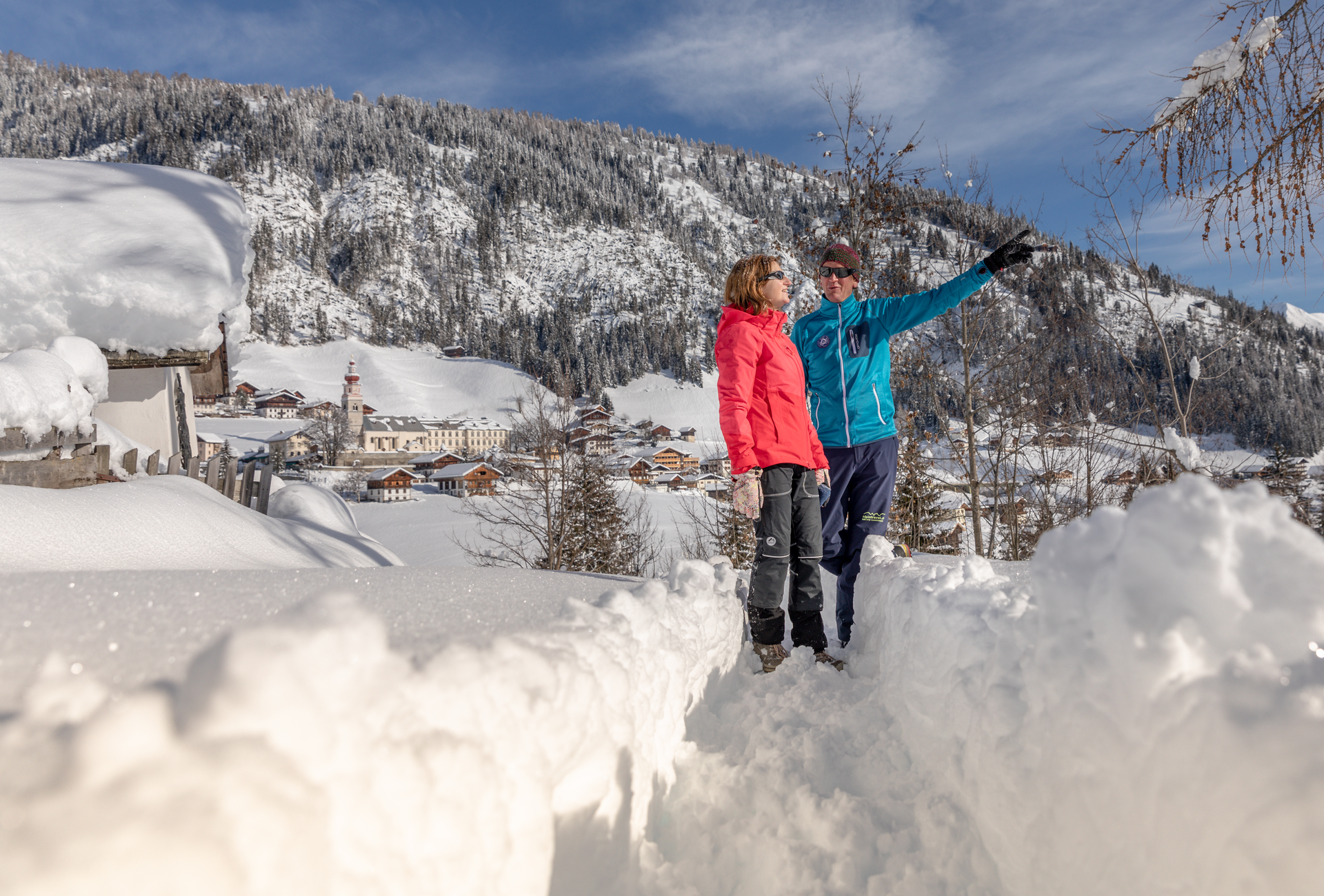 What do you want to discover?