Grifitzbühel
Level of difficulty:
Medium
13.8 km

Distance

6.5 h

Duration

957 vm

Lowest elevation

1852 vm

Highest elevation

929 vm

937 vm
A first glimpse
Some impressions of the tour
Man geht von Birnbaum nach Kornat und bleibt auf der Straße bis zum letzten Bauern – Stramitzer. Von dort den ansteigenden Fußweg in Richtung Norden zum letzten Haus ( Aussichtspunkt!). Nach dem Gatter bei der Abzweigung halten wir uns rechts im Hohlweg und wandern weiter, bis wir auf ein flaches Almwiesenstück kommen (Promigl). Nach dem Steilstück halten wir uns wieder rechts. Über den ständig ansteigenden Almweg gelangt man zu den Bergwiesen mit Heuhütten auf die erste Anhöhe. Hier hat man einen herrlichen Rundblick (im Süden das Biegengebirge, Plenge, Seekopf, im Norden die Mussen, Schatzbühel, Hochstadel sowie in der Ferne die Hohen Tauern mit Sonnblick, im Osten der Reißkofel, Dobratsch und Karnische Alpen und im Westen der Grifitzbühel). Man überquert des öfteren den Forstweg. Weiter über den steil ansteigenden Weg (ca. 150 m) kommt man zur "Hannes-Hütte". Vor der Hannes-Hütte nach rechts ansteigend in ca. 30 m kommt man zu einer Heuhütte, bei der sich auch der Kontrollstempel befindet. Der Abstieg beginnt direkt bei dieser Heuhütte nach links Richtung Mattlinger Alm, auf dem neuen Forstweg (ca. 8 km) nach Mattling. Beim "Duregger" auf der Straße ca. 300 m zweigen wir vor dem Eggerhof links ab und gehen über die alte Bundesstraße zum Schmied nach Birnbaum. Als zweite Möglichkeit bietet sich der Weg rechts ansteigend zur Motalpe-Feldwiesen an und Sie können dann entweder über die Oberraster Alm nach Liesing wandern oder den Lumkofel besteigen. Kontrollstempel an der Heuhütte oberhalb der Hannes-Hütte.
Location and how to find us
The Lesachtal holiday region lies in the Austrian province of Carinthia, directly next to the Italian border.
Plan your journey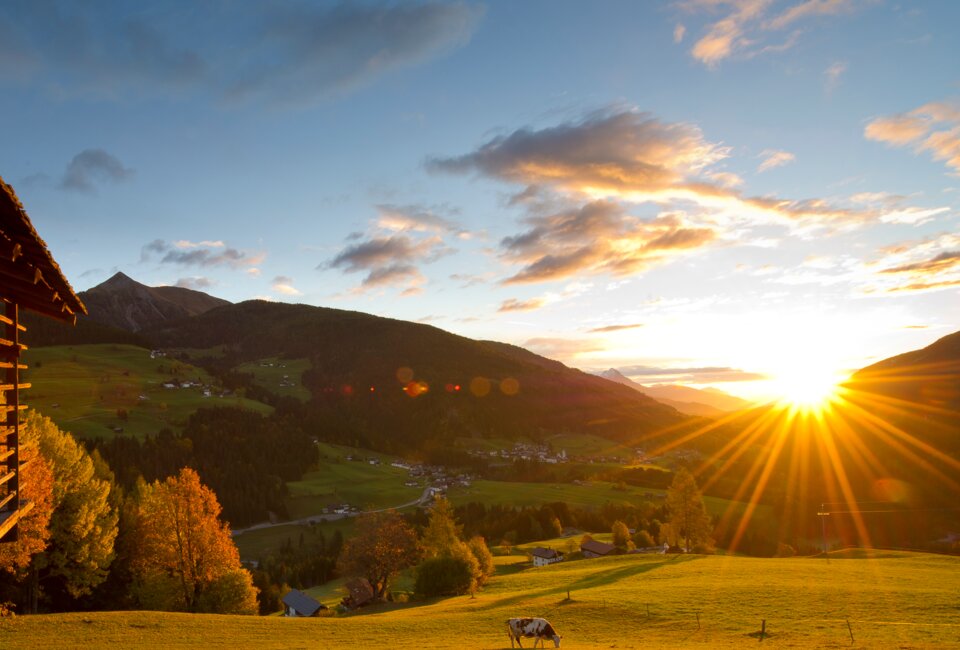 What do you want to discover?