Food & Beverage
Jausenstation Steineckenalm
ANFOCH. ECHT. GUAT.
Die Jausenstation Steineckenalm ist unsere kleine, mit viel Liebe bewirtschaftete Hütte an einem der schönsten Plätze des Lesachtales. Aufgrund der günstigen Lage ist die Hütte auch für ältere und gehbehinderte Personen bzw. Familien mit Kinderwagen leicht in circa 30 Minuten von Obergail (beim Schranken Obergailerbach) aus erreichbar. Sollte einmal das Wetter nicht mitspielen, was ja auch im Lesachtal vorkommen mag, sind wir gerne für Sie da.
Für viele unserer Gäste ist der Weg zur Steineckenalm bereits eine lieb gewordene Tradition. Ein besonderer Moment für uns ist aber auch das Staunen in den Gesichtern der großen und kleinen Gäste, wenn sie unser "Schmuckstück" zum ersten Mal erleben.
An dieser Stelle möchten wir einen herzlichen Dank an Sie richten!
Im Namen des gesamten Teams freuen wir uns Sie bald bei uns begrüßen zu dürfen,
Pächterin Karin und ihr Team
Weitere Informationen
An der Hütte angekommen erwarten wir Sie gerne mit hausgemachten Säften, kühlem Bier, und anderen Durstlöschern. In herrlicher Umgebung und bei strahlendem Sonnenschein laden wir Sie und Ihre Familie ein sich durch unsere kleine aber feine Speisenauswahl zu probieren - es ist für jeden und jede etwas dabei! Unverzichtbar ist natürlich unsere bekannt gute Brettljause und unsere frisch zubereiteten Eintöpfe. Aber auch die hausgemachten Kuchen sind eine Sünde wert.
Wie laden Sie ein: Erleben Sie mit uns eine einfache, gute Hüttenkost in einem atemberaubenden Ambiente und mit einem Team, das gerne auf Ihre Wünsche Rücksicht nimmt.
Wir freuen uns auf Ihren Besuch!
Well on your way to holiday joy
Contact & getting here
Find and book a suitable accommodation in the World of Mountains & Lakes!
Location and how to find us
The Lesachtal holiday region lies in the Austrian province of Carinthia, directly next to the Italian border.
Plan your journey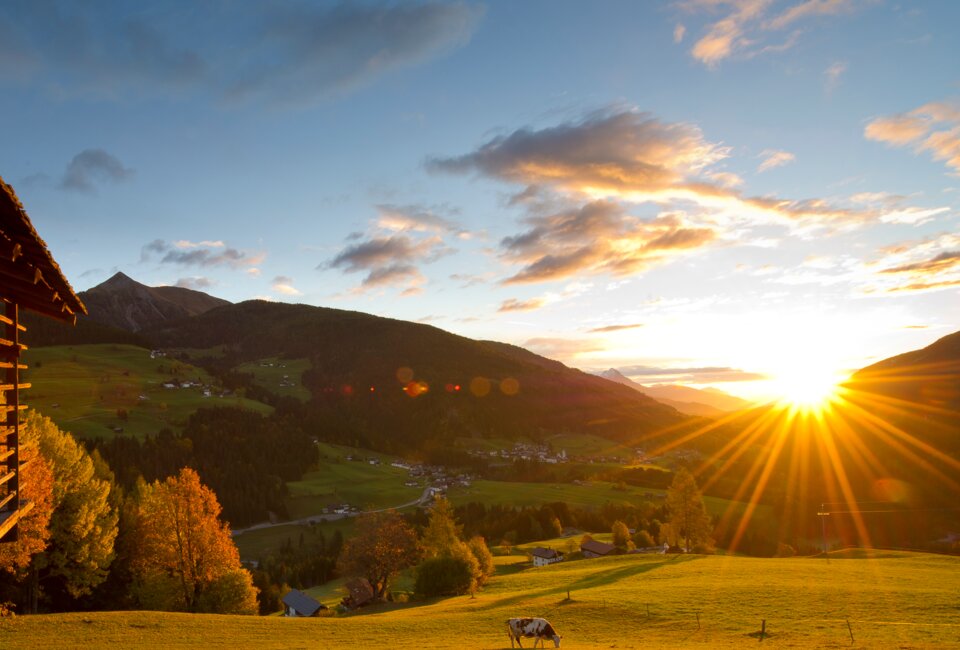 What do you want to discover?