Brot- & Morendenweg
Level of difficulty:
Medium
11.4 km

Distance

3.5 h

Duration

929 vm

Lowest elevation

1205 vm

Highest elevation

452 vm

452 vm
A first glimpse
Some impressions of the tour
Beginnend von der Kultur- und Freizeitanlage in Klebas bei Liesing führt der Brot- & Morendenweg hinunter zur Gail. Anschließend wandert man entweder bequem über den Forstweg, oder über einen steileren Steig durch den Wald hinauf zur Steineckenalm - einem der beliebtesten Ausflugs- und Wanderziele im Lesachtal. Hier empfehlen wir Ihnen einen Bergkäse aus Bio-Heumilch und weitere Spezialitäten zu genießen. Über einen Forstweg geht es anschließend weiter ins Obergailer Tal, vorbei einem idyllischen Rastplatz beim Obergailer Bachhin zum neuen Bienenlehrpfad, bei dem man viel Interessantes und Wissenswertes rund um die Welt der Bienen erfahren kann. Kurz danach kommt man bereits in der Ortschaft Obergail an. Die Hofschenke Mühlenstüberl wartet mit köstlichen Lesachtaler Stockplattlan auf - einer traditionellen Süßspeise im Lesachtal. Wer eine Lesachtaler Jause mit hauseigenem Speck und dem knusprigen Lesachtaler Brot genießen möchte, der ist im Alpenhotel Wanderniki genau richtig. Nicht weit davon entfernt befindet sich der Berggasthof-Pension Lahnerhof, wo Sie die typischen Lesachtaler Schlipfkrapfen serviert bekommen. Nun führt der Weg der Straße entlang vorbei am Bergbauernhof Ederhias, welcher beste Bio-Heumilch von Lesachtaler Kühen zu seinen Spezialitäten zählen kann. Über einen Steig durch den Wald geht es wieder hinunter zur Viehbrücke und anschließend wieder zurück zum Ausgangspunkt.
Location and how to find us
The Lesachtal holiday region lies in the Austrian province of Carinthia, directly next to the Italian border.
Plan your journey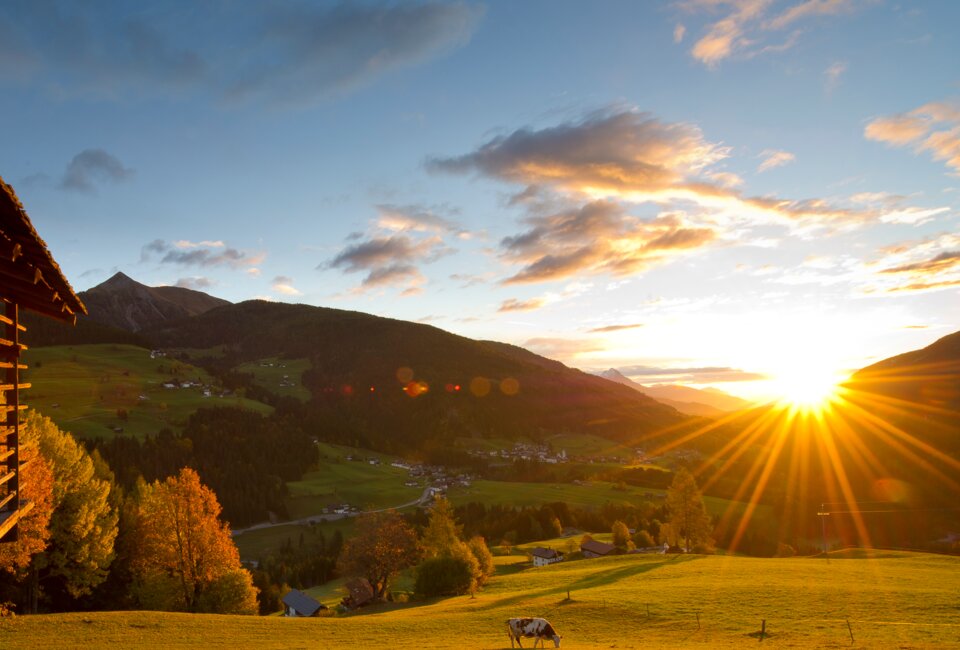 What do you want to discover?