Berg- und Höhenwanderung Maria Luggau – Luggauer Böden – Hochweisssteinhaus – Frohn – Maria Luggau
Level of difficulty:
Difficult
22.3 km

Distance

10.5 h

Duration

1089 vm

Lowest elevation

2231 vm

Highest elevation

1375 vm

1377 vm
Berg- und Höhenwanderung Maria Luggau – Luggauer Böden – Hochweisssteinhaus – Frohn – Maria Luggau
Bergwandern in den Karnischen Alpen im Lesachtal
Gehzeit als Rundwanderung ca. 10,5 Std. = 21 Punkte
Zu Fuß beim Gasthof "Bäckwirt" hinunter zur Gail und jenseits hinauf, durchwandert man leicht ansteigend das Ebnertal bis zum "Ochsenkofel". Von dort führt ein Steig teilweise stark ansteigend an rauschenden Wasserfällen vorbei zu den Luggauerböden und man erreicht das erste Etappenziel, die Bödenhütte (2.004 m, nicht bewirtschaftet). Gehzeit Maria Luggau – Luggauer Böden ca. 3 ½ Stunden. Hier weitet sich ein schöner, großer Almkessel, der zu einer gemütlichen Rast mit herrlichem Rundblick in die Berge der Lienzer Dolomiten einlädt (aufgelassener Friedhof aus dem ersten Weltkrieg oberhalb der Bödenhütte). Weiter geht es auf einem alten Kriegsweg leicht ansteigend in ca. 30 min. zum Luggauer Törl (2.232 m) und man erreicht den Karnischen Höhenweg 403 mit einem ersten Blick zum Hochweißsteinhaus.
Über den Karnischen Höhenweg erreicht ein guter Bergwanderer in ca. 2 Stunden diese bewirtschaftete Alpenvereinsschutzhütte. Leichter und etwas kürzer ist der Abstieg direkt ins Frohntal zur Ingridalm (ACHTUNG: DERZEIT IST NUR DIESE VARIANTE MÖGLICH!).
Vom Hochweißsteinhaus führt der Weg über das Frohntal nach Frohn – Sterzen zurück nach Maria Luggau. Gehzeit Hochweißsteinhaus – Maria Luggau ca. 4 Stunden.
Bei dieser Berg- und Höhenwanderung ist allgemein gute Ausrüstung und Kondition erforderlich. Kontrollstempel bei der Bödenhütte in den Luggauer Böden.
Location and how to find us
The Lesachtal holiday region lies in the Austrian province of Carinthia, directly next to the Italian border.
Plan your journey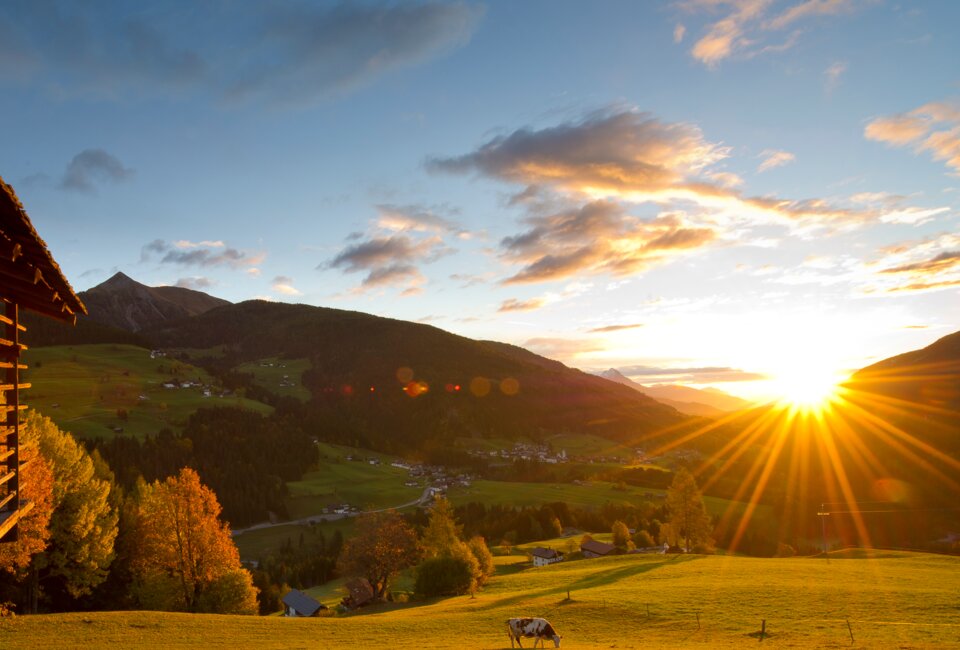 What do you want to discover?