Almwanderung Maria Luggau – Guggenberg – Samalm – Klammwiese – Maria Luggau
Level of difficulty:
Medium
9.6 km

Distance

5 h

Duration

1151 vm

Lowest elevation

1989 vm

Highest elevation

831 vm

840 vm
Almwanderung Maria Luggau – Guggenberg – Samalm – Klammwiese – Maria Luggau
Wandertour durch Wälder, Wiesen und Almen mit atemberaubenden Fernsichten
A first glimpse
Some impressions of the tour
Gehzeit hin und zurück ca. 5 Std. = 10 Punkte
Der schönste Aufstieg führt von Maria Luggau aus vorbei bei den alten Wassermühlen im Trattenbach nach Guggenberg. Bei den ersten Häusern rechts abzweigen. Auf einem Wiesensteig, der teilweise stark ansteigend über Bergwiesen führt, erreicht man nach ca. 3 Stunden die Samalm (Samalmkreuz) – keine Bewirtschaftung. Auf der Samalm genießt man einen der schönsten Rundblicke in die Lienzer Dolomiten und auf den Karnischen Hauptkamm. Der Abstieg erfolgt Richtung Osten vorerst auf dem Weg Nr. 24 (Xaveriberg-St.Lorenzen), ehe man auf einer Seehöhe von ca. 1.680 m diesen Steig verlässt, rechts abzweigt und den Abstieg über die Klammwiese nach Maria Luggau einschlägt. Weitere Auf- bzw. Abstiegsmöglichkeiten gibt es über den Guggenberger Sattel, Tuffbad bzw. Xaveriberg. Kontrollstempel unterhalb vom Samalmkreuz bei den Hinweisschildern. Die eigentlichen Wandersteige werden durch die Anlage von Almwegen öfters gequert. Hier ist auf die Einbindungen entsprechend zu achten – wahlweise kann auch der weitere, aber vielleicht manchmal gemütlichere Almweg begangen werden!
Location and how to find us
The Lesachtal holiday region lies in the Austrian province of Carinthia, directly next to the Italian border.
Plan your journey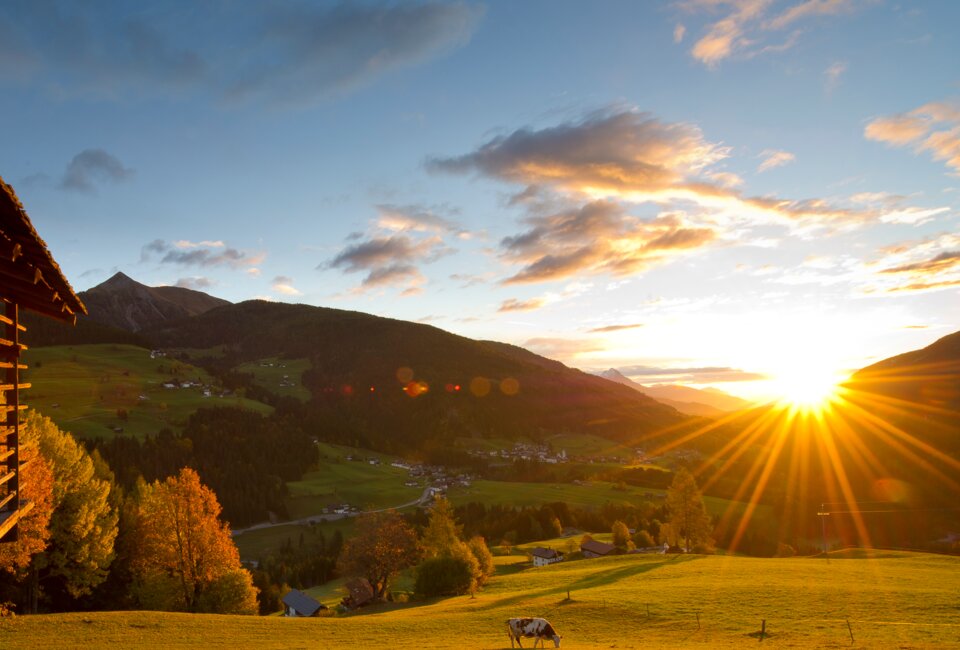 What do you want to discover?